Hiring remote virtual software engineers could solve your hiring problems
Are you struggling to hire the right engineers for your team?
Remote developers could be the answer to hiring high calibre software engineers for roles in London (or San Francisco, New York, Barcelona, Sydney, Manchester or Edinburgh or anywhere for that matter).
Whether you are looking to hire a freelance or permanent software engineer to join your team you will be facing the same challenges as every other company.
You don't want to outsource to offshore development shops because you'll lose your IP, you can't maintain culture, they don't have the same passion and you lack a cohesive & coherent product vision.
You want to grow your team to ship amazing product but you can't afford the sky high wages and paying 15-20% on top for agency fees breaks the bank
Start your search for amazing remote developers today TRY FOR FREE
---
It doesn't matter whether you are looking to hire a PHP developer, a Java developer or a JavaScript full stack developer the demand in major cities outstrips supply 10:1.
Everyone knows about the magic project management triangle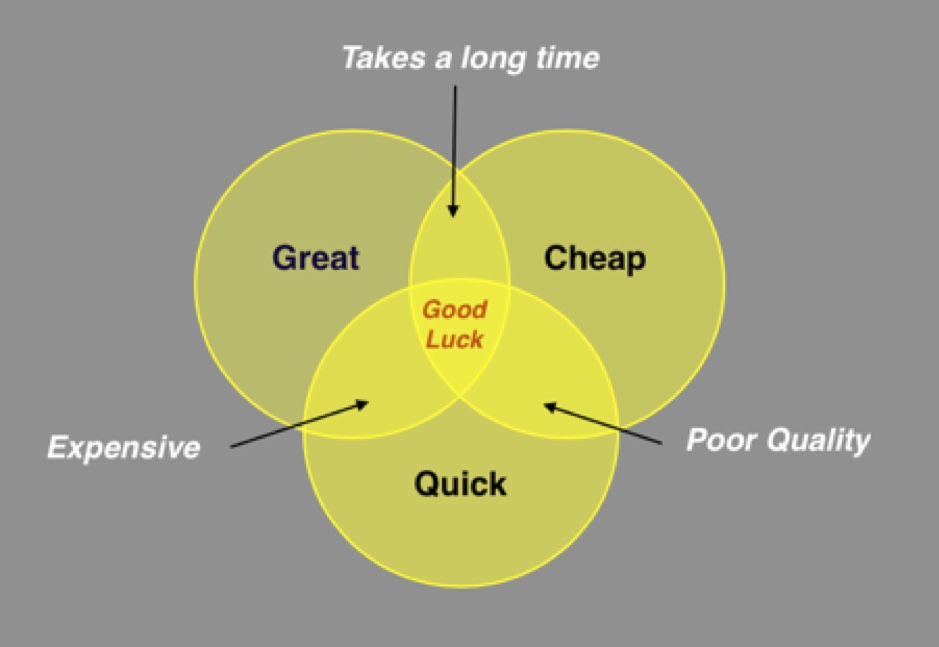 You can either have your project delivered cheap and quick – but it won't be high quality
You can have it cheap and high quality – but it will take a while
Or you can have it high quality and quick – but it won't be cheap
But you can't have all three.
Well, you can apply the same kind of matrix to hiring coders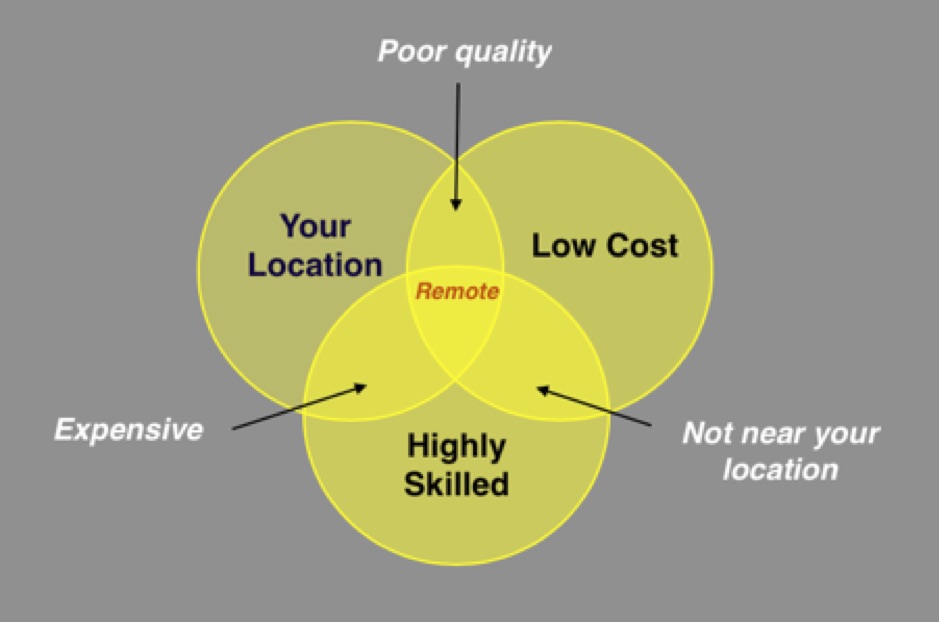 You can find highly skilled software engineers in London but they are expensive
You want highly skilled and low cost but you have to go out of London
If you want low cost developers in London you'll struggle to find them highly skilled (if you do find them you still run the risk they realise their market rate and you either pay more or they leave – not in all cases of course but it is a risk)
If you are a start-up or growing tech business in London looking for tech talent you are fighting against 1000s of other companies for the same talent. Anyone who knows anything about basic economics knows that if demand outstrips supply, price goes up.
If you are in a location with a high density of companies competing for the same talent (London, Manchester, Edinburgh, San Francisco, Seattle, Toronto, New York, Berlin etc) you will pay top dollar, pound or Euro for talent. Average mid to snr Software engineer's Salary in London £75k, San Francisco $125k!
Well, what if we told you you can have your cake and eat it. What if you can have amazingly talented software engineers, part of your team, sharing your dream, working alongside your other team members without upping sticks and moving the office to the other side of the world.
The answer: Distributed teams.
This isn't outsourcing, this isn't freelancers working on small projects – these are permanent team members sitting somewhere other than your office.
The world is changing. Within 5-10 years work places will be unrecognisable. Just like the high street has shifted online, so will the workplace (and we're not talking about Elon Musk's crazy plans to fly rockets round the word in under an hour)
There are a number of factors driving this.
Better Life-Work balance – people often put this down to Millennials but this has been shifting for years. Gone are the days of the regimented 9-5pm work regime. Gone are the suits and polished shoes (well in most places, the banks are finally starting to see the light here with their polo shirts and slacks). People want to work the hours they want to work (within reason) and have the flexibility to work from somewhere other than a cramped office. Of course this isn't possible for all professions. Some work requires you to be in situ, a remote dentist isn't going to work, but software engineering is suited perfectly.
The environment – Spending hours a day traveling to and from the office is not good for the environment (or your sanity!). Trains, cars, planes all produce nasty pollutants which are no good for the environment. By reducing your distance to work or even eliminating it will help look after the planet.
So why should you consider expanding your talent pool to the global developer community?
Quality – If you could see the quality of software engineers looking for remote work you would be amazed – oh wait… you can – check out our developer search tool and enter the skills you are looking for and tick the remote filter.
Are you a remote developer looking for your next remote role? Register now
---
Cost – You can find amazingly talented, experienced, diligent, native language speaking software engineers for half the cost you are paying locally (and we are being conservative here).
Diversity – It's hard enough finding the talent, but if you are committed to building a diverse team it makes life even harder. Widening your net to include remote teams opens up so much more opportunity to build a fully diverse team. We've seen teams who didn't consider diversity early on and ended up with an all women team. Every time they employed a male to join the team he left within a few months. It's hard to diversify a team that is already stacked one way or another. It's much easier if those new team members can join remotely, be part of the team but not feel like the odd one out in the workplace.
Communication – Part of the reason everyone comes to work is to communicate with each other, but with the advent of the internet there are now hundreds of options to communicate with team members all over the world. With Skype, Slack, GoToMeeting, Hipchat, Trello, Asana, Jira, Balsamiq, Github, Geektastic you can create a completely open line of communication. And in fact you can argue that by using these tools you set up better lines of communication than in an office.
Office Space – With office space at a premium, why not reduce overheads and have teams located away from the office. Plenty of remote developers actually work from co-working spaces (with fast wi-fi) to ensure they get out the house and on a fast connection and have some all important human interaction.
Supply / Demand – With a shortage of talent within your local catchment area firms need to look further afield. This used to mean setting up local offices where the talent is located. However, that is expensive and still limits the opportunity to that local catchment area.
Looking at the profiles of the community of engineers in the Geektastic community you will quickly see how many are looking for remote work (over 70% are actively looking for remote work)
Published
18 October 2017
Author
Rick Brownlow
Co-Founder
Previous posts
February 2017
September 2016
February 2016