Compare Geektastic's peer review code challenges with automated tech screening services like Codility and HackerRank.
Are you looking for a Codility alternative?
Are you looking for a service that provides 'deeper insight' to automated screening companies like HackerRank, Codility, DevSkiller, Codesignal etc?
Are you still doing technical interviews with devlopers who have 'passed' a technical pre-screen that don't hit your in-house technical standards?
Here's our side by side comparison. If you are using Codility or HackerRank, here's what you are missing out on… read about the best alternative to HackerRank).
| Geektastic (peer review) | Codility/HackerRank (machine reviewed) |
| --- | --- |
| Candidates enjoy real world code challenges | Candidates don't like algorithm based challenges |
| Candidates can use their own development environment | Unfamiliar coding environment (browser-based IDE) |
| Detailed line by line, human analysis | Uninformative score based results |
| Peer-review is a scientifically proven methodology to deliver fairer reviews | Machines will fail solid developers for syntax errors |
| Developers provide feedback on the review | Binary pass / fail result |
| Deep technical insight into a range of coding skills | High level pre-screening |
| Well balanced review | Bad engineers will pass, good developer will fail |
| Pay as you use | Annual subscription fees |
Bulb hired 70 developers in 12 months using Geektastic's assessments, saving 58 days of engineering resource
Lauren Hall
Senior Tech Recruiter
at
Bulb

Change testimonial. Use index.
Edit testimonial
70

Engineers hired in the last 12 months

44

Hours per week of engingeering time saved

50%

Reduction in time to hire

408

Technical assessments outsourced
Start 14 day free trial*
Do you tech screen
your candidates in-house?
Do you have zip files containing your code challenges flying around everywhere, getting stuck in spam filters, not being stored in one place?
Does your in-house development team miss delivery deadlines because they are carrying our code reviews on candidates' submissions?
Are you paying an annual subscription for something you only use now and then (Geektastic is pay as you go, not annual subscription)
Do you have your development team look over the code submitted by candidates on machine based code screening platforms
Do you find your are interviewing candidates who have 'passed' a tech screen on an automated platform.
Geektastic can help you - today
Don't take our word for it - below are some quotes taken from the web (they must be true right, we found them on the internet!)
"A tool that every recruiter loves, every wanna-be programmer fears and every person who writes software, in a commercial environment, laughs at (if they don't, they should!). And all this hatred comes from a very simple reason Codility doesn't test programmers; it tests ability to google and use notepad. And I am not just blindly ranting, so bare with me, while I explain the top issues I have with Codility."
And from a comment within this post "I've just taken a test on Codility for the first time and I have to agree it doesn't test a developer's ability to code or develop software, but how to rush and throw code at problem even if it is bad code. Not really happy with this sort of testing. It also doesn't help that they do not allow access to all parts of a language. In this test one of the things I wanted to do was sort an array. I work in Java and normally I would use the builtin array sorting method, but Codility didn't allow me to access this method.
I much more prefer tests where they give me small task or project that I have to complete. Specifically if they give me a set of requirements and what they expect for a solution and just let me go. I'll turn out something, maybe they'll like maybe not, but it's a better test of my abilities as not just a coder, but as a developer in general."
At Geektastic we feel passionately about improving hiring the process for both candidates and hiring teams
We know you are busy.
No one wants to do ten coding challenges when applying for a new job - it's stressful enough going through round after round of interview without spending every evening and weekend doing brain numbing code challenges.
Just as importantly we feel feedback is essential
No one wants to spend a few hours on a code challenge to be told they 'failed' with no explanation as to why. At the very least the candidate should be told where they went wrong so they can learn from the experience, even better they should be given the chance to explain their choices and thought processes.
Here are some screen shots from the platform, these demonstrate our philosophy of putting the developer first in the hiring process.
Line by Line analysis
Our expert review team will go through the code line by line and provide detailed feedback, not only pointing our where things went wrong, but where they were right. In some instances the team will drop in alternatives to improve the code to try and make this as much a learning experience as an exam (who likes exams?!)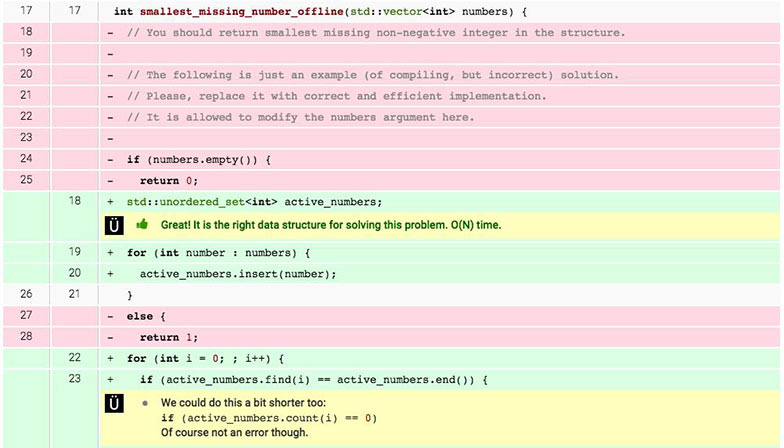 Dynamic Feedback
There's nothing worse than having no right of reply.
Quite often we hear from developers who have been initially failed by the review team who have explained their thinking and approach to solving the code challenge to then be asked to attend an onsite and actually end up being hired. Without some way for developers to feedback on the review you risk losing out on high quality talent (and just as importantly, leaving them with a bad experience).
This is why we created our dynamic feedback tool using websockets for instant communication.
Once the review is completed it is published on the platform so that both the hiring team and the candidate can view the review. The candidate can then feeedback their thoughts on the review and actually interact with the reviewer and the hiring team via the challenge. We always encourage the review team to ask questions that the candidate can then answer providing additional colour (and potentially insight into their cultural fit depending on how they approach their response :) )
Below is an example of Dynamic Feedback interaction between the candidate and the reviewer.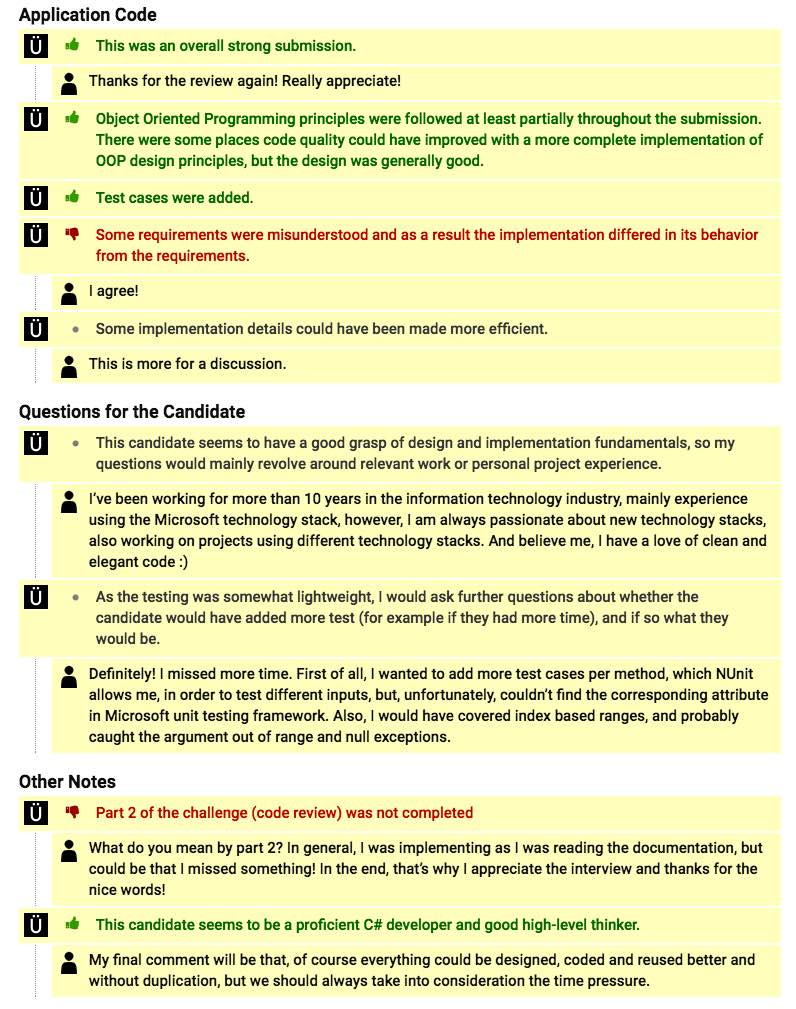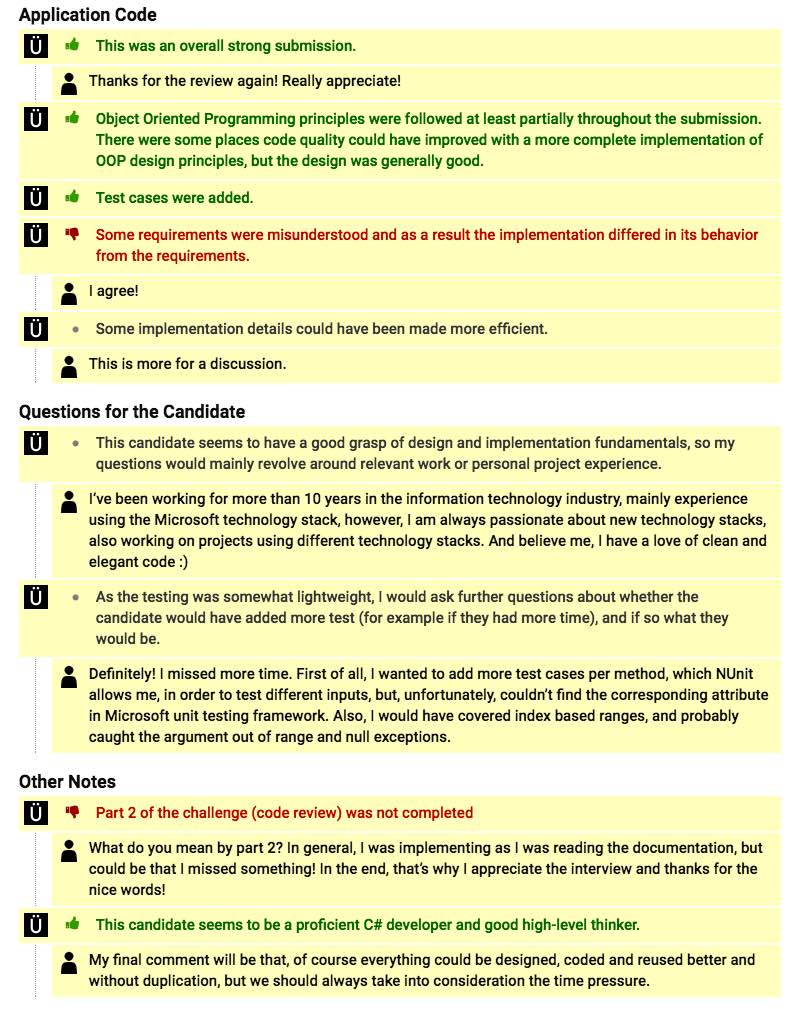 Are you interested in knowing more about our thinking around peer reviewed code challenges please check out some of our blog articles here
Are you tied into an annual deal with an automated technical screening company? We'll waive our platform fees until the expiry of your current contract
Frequently Asked Questions
General Questions

So what is Geektastic? I hear it's more than a technical assessment platform

Let's face it - the current process for hiring software engineers has (lots of) room for improvement.

At its core Geektastic is a platform that manages code challenges. We believe a candidate is worth more than a score and humans perform much better reviews than machines.

There is more to coding than solving an algorithm.

We help employers and recruiters assess the technical skills of software engineering candidates through deeply insightful, code challenges.

We have built our own unique bite-size Express Code Challenges for our developer community to enjoy before they commit to taking our 2 hour Peer Review Take Home challenges.

We also help match developers from our community with employer's roles. Because our community take code challenges to complement their profile they can show off their skills to potential employers.

The very best engineers in our community (those that ace our code challenge with 4-5 stars across the board) join our well paid UberGeek Review Team and earn a secondary income reviewing code challenges in their spare time (£25 per 30 minute review).

Our UberGeek review team also approve express code challenges which have been created by the community just to make sure they are 100% - we pay £10 for each express code challenge reviewed and published.

What programming languages does Geektastic cover?

We support a wide range of programming languages including JavaScript (incorporating frameworks such as node.js, React and Angular), Java, PHP, Python, C#, Java, Android, Swift, Objective C, Scala, MySQL, C++ and Ruby. We are constantly adding new ones, so if you have a language we are not covering please contact us at [email protected]

How secure is my data on Geektastic?

We are fully GDPR compliant. We operate a fully secure platform using SSL encryption and we never store your passwords in plain text.

All developer profiles are anonymous, as a developer you join and create a profile. You can use OAuth like Google or Github to authorise the application or you can use a local username and password.
I am a developer, please tell me how Geektastic works?

So why should I join Geektastic as a Developer?

Good question! We welcome developers from all over the world to join our fast growing community. As you might have gathered we are trying to change the way software engineers are hired.

There are a number of reasons you should join

You can earn a secondary income doing code reviews in your spare time. We pay £25 per 30 minute review peer review and £10 per express code challenge review.
You can be fast tracked for some amazing software engineering roles, whether you are looking for an office based role or you want to work as part of a remote/distributed team.
You can benchmark your skills against a global developer community. We show you where you compare to other developers in our global community.
You can create and share Express Code Challenges with our community. Once you have taken a couple you an start to create your own. We have created some guidelines you can read here.

I'm sold. So what's the process for a Developer joining Geektastic?

To benchmark your skills, to join the paid review team team or get fast tracked to a great new role you'll need to complete around 20 Express Challenges per language (these take an average of 1-2 minutes to complete. 
If you are keen to join the paid review team you'll need to get in the top 5% of the global community. You will then be issued with a peer review code challenge - we use these to assess your all round programming skills, if you ace the peer review you are in the paid review team. 
If you are looking for a new role you will need to set yourself to 'actively' or 'passively' looking. This will mean you start matching with roles on the platform. We have signed an exclusive partnership with a tech recruiter called Third Republic. Our matchmaking algorithm start the process of matching you with roles but their expert team will then manually review your profile to ascertain whether you are a good fit for the role. You can apply to them directly if you see a role you like the look of, also they will be in touch with you to see if you are interested in anything they think is a good match.

What type of roles do you have posted on the platform?

They change all the time (obviously) - but they are all software engineering ad DevOps jobs. They are all broken down by programming language (eg Java, Python, PHP, C#, JavaScript, Scala, Kubernetes, Ansible, Terraform), tech skills, years of experience, how much salary you will be paid (before the taxman gets his hands on it), and whether they are based at a particular location or are remote. We have partnered with a specialist tech recruitment company called Third Republic to handle recruitment on our platform.

How do I take a peer review code challenge to try out for the review team?

First you have to complete 20 Express Code Challenges in a given language. These are the multiple choice challenges created by our expert team of reviewers and members of the community who have a high enough rating to become an author. Score well in the Express Challenges to unlock your qualifying Peer Review challenge. We are looking for a developer to rank in the top 5% globally before we can open up a peer review.

Can I share my review with companies who aren't yet on the Geektastic platform?

Of course. You'll be investing sound 30 minutes on our Express Challenges or 2 hours of your precious time completing one of our peer review code challenges. 

You can then share your public profile which shows off your results. 

You can post it on your LinkedIn profile, Personal Website or create a QR code and tattoo it to your arm if you like.

We hope that prospective employers will use that instead of asking you to take another tech screen.
How can I become a reviewer on Geektastic?

What steps do I go through?

What step do I go through?

We have a number of steps to becoming one of the review team. For obvious reasons we have to be very thorough (clients expect our team to the same quality as their in-house team).

First you need to register and validate your email (1 minute)
Create a profile - we are mainly interested in your core programming languages so we can allocate you the appropriate qualifying challenge (2-5 minutes)
Complete some Express Code Challenges to show us your skills.  These take around 1-2 minutes each. You will need to complete up to 20 challenges (this is how we obtain a true ELO score). 
If you get in the top 5% you will open up a peer review qualifying challenge.
Take one of our peer review qualifying code challenges (2 hours).
Our review team will then thoroughly evaluate your solution and provide you a detailed review (we aim to have this back in 24-48 hours)
If you get voted to join the team (you'll need to be be getting 4-5 stars across the board to be voted in) we then ask you to carry out two dummy reviews as we need to make sure your reviewing skills are as awesome as your coding skills - we do give you some guidance to help you understand what we look for in a reviewer (this takes approx 1hour)
Assuming your reviews are up to scratch you are upgraded to Ubergeek Review team status, we'll add you to Slack and you'll start to receive messages from the system inviting you to carry out reviews. We pay you £25 for each peer review you perform and £10 for each express challenge you approve. We accrue all reviews and pay you the amount due at month end - either by bank transfer if you are in the UK or by Wise, Revolut or Payoneer.
Once you are in the team we'll add you to our Slack group, this notifies each team (JS_Ubergeeks for example) when a new solution has been submitted or Express Challenge has been created which needs reviewing.
You can pick up as many or as few as you like, we don't have a minimum you need to complete in a week or month, we also don't guarantee how many you'll be able to review as we are beholden to our clients' candidates submitting. Some of our Ubers did write an answer someone posed on Quora on this point. All we ask is you complete a review within a few hours of starting it so we can get the results back to the candidate who will be waiting.
Oh and lastly, we'll send your UgerGeek T-Shirt and decal.

Sound exciting? Register to become an Uber Geek today Register now

Why should I join Geektastic to carry out code reviews?

Geektastic is a great way to earn a secondary income. You choose when you work and for how long. We pay you a flat rate for reviewing candidate's submissions straight into your bank account at the end of the month. You also get to collaborate with other Uber Geeks. We call it earning and learning.

Can I work from home?

Of course, that's the great thing about Geektastic, you can work from wherever you like.

Can I join the UberGeek Review Team from outside the UK?

We have Uber Geeks from all over the world, from Argentina to Australia, LA to Beijing.

I specialise in a programming language not covered by Geektastic?

We are always looking to add new programming languages. Please email [email protected]with your details, and your chosen language and we'll be in touch.

Do you have a cap on how many challenges I can review?

You are limited by the number of challenges the platform creates for you to review. There are client generated solutions (i.e. where they have invited a candidate to take a Geektastic challenge) or where a developer has joined our platform. As all challenges are anonymous you will not be aware of which type you are reviewing. The volume of challenges is driven by the number of clients inviting candidates, the number of developers joining the platform and how many other UberGeeks there are doing the reviews. Please note this is not a full time role as demand fluctuates.
Why is Geektastic the best technical assessment platform?

How much does this amazing service cost?

Prices start at £250 per month - no annual fees, you can pay everything monthly (or €300 or $375)

Each review done by our review team is £50 per review (or €60 or $70)

You can license our challenges from just £20 per month (or €24 or $30)

All our pricing can be found here Geektastic Pricing,

Does Geektastic use machine based automated candidate testing?

Nope. We use real human reviewers to perform our reviews. Please have a read of this blog post for more on our thoughts about how to perform code challenges

How long does it take to review a candidate's code challenge submission?

Most come back the same day. We aim to complete all reviews in 24 working hours but when throughput volume is high we can take up to 48 hours to respond.

Do you integrate with third party ATS platforms?

Yes, we are integrated with both Greenhouse and Workable.

You'll need any account with both Geektastic and Greenhouse/Workable to operate our code challenges on their platform.

Once you are ready to start sending out invites you just request and API key and send it over to your ATS provider (with Greenhouse you send it to your account manager, with Workable they provide a self service interface on their website)

After they are connected you can then invite your candidates and view the results directly from your ATS.

Can I try before I buy?

Yes, we offer a free trial to test out our assessments before you buy. You can have two free assessments on the house.

Would you like to test out a Geektastic code challenge on a candidate for free? Register now

How do candidates take the challenges?

Before you can invite your candidate you need to register as a Hirer and either license a Geektastic Challenge or create a custom code challenge.

You then invite them to take a challenge by entering their email, first name and surname and the challenge you want them to take into Geektastic.

The system automatically triggers an email to the candidate asking them to take part in the challenge.

Each challenge usually requires certain tools such as an IDE to be set up on the user's machine in advance of the challenge (the challenge instructions warn them about this prior to the clock starting to tick away).

The candidate also needs to find a time window (usually two hours) where they can log into the platform and carry out the challenge. Once they have completed the challenge they upload their solution as a zip file.

Can I use my own challenges rather than the Geektastic challenges?

Yes, you can upload your own challenges using our code challenge builder tool. These challenges remain private and will only be used by you on your candidates.

Can you help us grow a more diverse team?

All our reviews are completely anonymous. The reviewer has no idea who they are reviewing - this means they can be completely impartial.

Removing unconscious bias is crucial in recruitment flows. If the same team that carry out the review carried out the initial phone screen or first round of interviews they will have started to build up opinions, both conscious and unconscious - there is a risk that these will flow through to the review they perform on the code challenge submission.

Using Geektastic's platform removes the risk of these biases affecting the review.

Do my candidates remain my candidates?

100%. 

You have spent a lot of time sourcing and wooing your candidates. When you invite them to take a code challenge on our platform they remain ringfenced to you.

They do not register on the platform, they do not create a profile - they simply come to the platform to take a code challenge and receive their review.
I've been invited to take one of your code challenges, what next?

I am applying for a job and have been asked to take a Geektastic code challenge

You will receive an email from the system which contains instructions detailing what you need set up on your machine (this varies depending on your technology stack) and how long the challenge will take to complete. 

Once you are ready you follow the link in the invite to our site.

Once at Geektastic you can choose to start the challenge when it suits you.

All challenges are carried under time limited conditions (some are 2hours, others you can spend as long as a week working on your solution). Once you are ready to go you hit the 'start challenge' and the challenge is revealed.

Once completed you upload your challenge solution in a .zip file.

Are your challenges time constrained?

Yes, all challenges have a fixed time - otherwise they could run forever and that's not good for anyone. They tend to fall into two categories, short time constrained challenges (usually 1-3hrs) or what we call 'open ended' (but what we mean is you have a week to 10 days to complete the challenge).

Before you start your challenge it will let you know how long you have to complete your challenge. Please give yourself enough time at the end of the period (i.e. when the clock starts going red on the page) to zip up your solution and upload it to the platform so it can be reviewed.

Do I have to use a browser based IDE?

Nope, you can use your own IDE.

We know how annoying it can be to be asked to take a code challenge, let alone have to code the solution is some unfamiliar, browser based IDE which is also recording your every move. That's a bit like asking someone to take their exam on one of those crazy kneely chairs and use chalk to write your answers on a blackboard

When do I find out the results of the assessment?

We perform a line by line review, star ratings for categories like code quality, solution design and problem solving skills and provide high level summary points, then you receive an email from the system to take you to the review and also allows you to feedback your thoughts on the analysis.

What happens if I don't complete the challenge in time?

We advise all candidates to submit whatever they have at the end of the period, regardless of whether they have finished or not. 

If you don't submit in time it's not all over. We do provide clients the tools to open up the challenge to allow you more time to complete it - so if you suffer the old 'dog ate my homework' scenario then please contact the person that invited you and they will be able to decide whether to open the challenge up again.

Do you allow multiple submissions?

You can upload multiple submissions during the challenge window. However we always assess the last submission so please ensure the last submission is your 'final answer'.

What do I do if I have problems whilst working on my code challenge?

Please contact the person that issued the code challenge if you have any issues with your challenge, they can then contact Geektastic support if they can't resolve the issue.